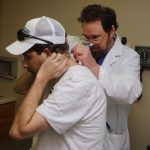 When we talk about men's health, most of the time we are talking about heart disease, prostate gland or ED (erectile dysfunction). It is true that men have more heart disease than women, but women are quickly catching up to men.
Men can start at any age and should have a yearly checkup. Many guidelines exist for age appropriate type exams, such as age 50 for the first prostate exam. We feel that even peds, teens and young adults need their blood pressures checked now and then. Cholesterol levels also should be checked at an early age as well.
Depending on your family history, we will go ahead and check you out much earlier than guidelines suggest. For example, if your father died at age 42 of a heart attack and you are 30 years old, we are going to give you a thorough cardiac workup. Many medications and diseases can lead to erectile dysfunction. Low testosterone can also cause erectile dysfunction as well as a host of other problems in men. We check testosterone levels with a simple blood test and are able to treat many men with this condition.
Along with a basic health panel of blood test, men should have a yearly PSA test. This can detect prostate cancer but does have problems with a lot of false positives. A PSA test does not replace a manual exam to test the prostate digitally.