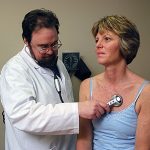 Rocky Top Medical Center can provide all the regular screening tests needed to provide optimal patient care – pap smears, cancer screenings, blood work, breast exams and EKGs are just a few test we can provide. We also set up screening mammograms, starting at the age of 40 or earlier if breast cancer is in your family. We recommend mammograms to all women beginning at age 40 whether you have us start your process or you do it yourself, it is important to follow through.
We offer hormonal testing and replacement. Many women have low testosterone levels which can affect their energy, mood and libido.
We can detect depression and anxiety that often affects many women and goes unrecognized.
Women are generally the main caregivers of the family and often times neglect their own health issues. We will help keep you on path of optimum health and well-being.
Research has shown that women are starting to develop heart disease at an earlier age and catching up with men in this country. Women have different symptoms than men with heart problems and we need to educate women on how to spot these early warning signs before serious problems arise.
Since women are the main caregivers of their families, we like to discuss health issues such as diet, exercise and weight loss. We want to educate women to be as healthy as possible. Feeling healthy is important for a well balanced life.