Laser Resurfacing
Laser resurfacing is a relatively new treatment for reducing facial wrinkles and skin irregularities such as blemishes or acne scars. This technique use short, concentrated, pulsating beams of light to remove skin very precisely, layer by layer. This procedure is excellent for eliminating fine lines or wrinkles from the forehead, around the mouth and eyes, or scars from acne. Recovery time is up to two weeks.
Hair Removal
Body and facial hair is best removed with IPL unless the hair has no color.
Sclerotherapy – Leg Veins
Leg veins can be easily treated at our facility. Some varicosities and all spider veins are treated. Fatigued legs and bruising are often the result of leg veins that are faulty and not circulating blood properly. Get clean looking legs!
Photofacial & IPL
IPL or Intense Pulse Light with the Lumenis One is a great treatment for rejuvenation, Acne, Rosacea and pigment. It is also excellent for hair removal.
Adding ALA to the skin before IPL is excellent for treatment of acne and is probably as effective as Accutane.
Injectable Implants
Radiesse is a calcium derivative that can be used to inject lines such as frown lines and to build cheeks and chin, and strengthen jaw lines. This is an in-facility procedure, which requires dental blocks to numb the face.
Dermal Fillers
Restylane, Juvaderm, Perlane and Juvaderm Ultra are all fillers we can use to fill lines and lips. These fillers last 6 months to a year and readily improve the appearance of facial lines, wrinkles and lips.
Botox
Botox injections for dynamic wrinkles, lines, brow lift, lip lines and forehead lines.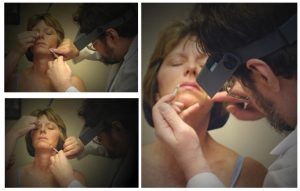 Moles
Any non-cancerous mole on the face can be removed safely and with far less scarring than other methods using Encore Ultrapulse Laser
Radiofrequency Skin Tightening (ALUMA)
Tightens skin with bipolar radio frequency waves. Works great around the eyes, mouth, neck, or anywhere on the body. Great for wrinkles and lax skin. Aluma does not hurt like Thermage. 4 – 8 treatments required.
Acne Scarring
Deep FX is the best, most effective way the remove scaring caused by Acne. To find out more about Deep FX, Click Here.
Face-lift
Combining Active FX and Smartlipo to the areas of the neck, jowls and cheeks can often produce better results than a surgical face-lift. Great for erasing the tired look.